Just. Like. You. (Hardcover)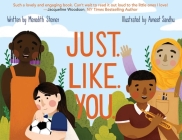 $17.99

Usually ships in 2-9 days.
Description
---
Just. Like. You. is a rhyming story in celebration of diversity that introduces readers to all the different members of a classroom, and what makes each of them uniquely who they are.

Lu speaks with her hands

Will writes down their thoughts

Ava reads along the page; her fingers glide on dots.



Bella's body's narrow

Julian's is round

Elijah's legs are shortish, so his dress drags on the ground.



Written in a melodic, read-aloud ready rhyme, Just. Like. You. is a joyful celebration of individuality and diversity. Follow a class of students throughout the school day from morning to night and discover what makes each of them unique; from different talents, abilities, and body sizes, to ethnicities, religions, gender expressions and more, there are so many things to love about being you. Avneet Sandhu's endearing, playful portrait illustrations bring this magnificent classroom to life.

A perfect back-to-school gift, or anytime-gift, Just. Like. You. is a burst of delight.
About the Author
---
Meredith Steiner is an activist and advocate, committed to a more just, more joyful world. She loves playing board games that go on too long, making miniature books, and singing show tunes (when she's sure no one is around). She is a children's librarian and lives in San Francisco with her two sons.

Avneet Sandhu is an illustrator and designer from Ontario, Canada. She received her Bachelor of Global Business and Digital Arts from the University of Waterloo. Her bold and colourful illustrations hope to present a world where everyone can find joy in who they are.